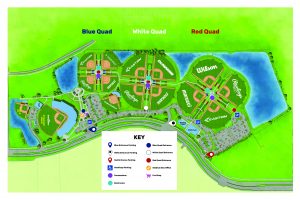 A
Accessibility- Adhering to the Americans with Disabilities Act (ADA) the USSSA Space Coast Complex the Complex was designed to be universally accessible and comfortable to all guests.
Alcoholic Beverages- The Complex has a zero tolerance policy in regard to outside alcohol.  Guest or players caught with or attempting to bring in outside alcohol will be removed from the Complex for the remainder of the day.
Advertising- For questions about advertising at USSSA Space Coast Complex please contact – sponsorship@usssa.com
Address/Location-
5800 Stadium Pkwy, Melbourne, FL 32940
From the South/North: I-95 to the Viera exit (exit 193).
ATM- The USSSA Space Coast Complex does not have an ATM on site.
Animals- The Complex is dog friendly.  All dogs must have a valid rabies tag to enter.  No other animals are permitted.
Admission- Pricing at the Complex will vary based on the event taking place.  Please review your event details for specific information.  Tickets may be purchased online at usssaspacecoast.com/tickets.  There are no ticket sales onsite.
AstroTurf Policy- All seeds and gum are strictly prohibited on or around the turf fields. Athletes may wear molded cleats or other athletic shoes on the playing surface. Absolutely no metal cleats.  No tobacco products, sports drinks or liquids other than water will be allowed on the turf.
B
Bag Policy: All bags and purses brought into the Complex are subject to search.
Bicycles-   Bicycles are prohibited on the premises.
Broadcast- USSSA Space Coast Complex has a fully operating 4K broadcast facility. Depending on the event, the full broadcast of games will be available on usssalive.com
Baby Changing Stations- Baby changing stations are available in all restrooms.  
Buses/RV- All buses and RV are required to park in the North Red Parking Lot.  Ruses and RV that are parked anywhere else will be asked to move. No overnight parking or hook ups are available. 
C
Concessions- A wide variety of food and beverages is available throughout the ballpark at several permanent locations and portable stands. Contact concessions@usssa.com with any questions or feedback.
Chewing Tobacco- Chewing tobacco is prohibited on the playing field or any turfed areas.
Cleats- Athletes may wear molded cleats or other athletic shoes on the playing surface. Absolutely no metal cleats. 
Code of Conduct– Coaches, players and fans all must abide by the USSSA bylaws at all times. Any guests found violation of Code of Conduct may be removed from the premises.
Coolers- The Complex does not allow fans to bring in coolers at any time.  Player and team coolers will be addressed for each tournament individually.
Credit Cards- All major credit cards are accepted at the concession stands and USSSA merchandise locations.
Credentials-Athletes and coaches may be provided credentials or wristbands for entry to the Complex.  Credentials must be shown each time an athlete or coach enter the facility.
D
Directions- Orlando International Airport
Drones – Drones and other unmanned aerial vehicles are not permitted at the Space Coast Complex in accordance with FAA regulations and complex policies.
Drugs- The Complex has a zero tolerance policy for any illegal substances found on the premises. Any persons found violating this policy will immediately be removed from the Complex.
Dugouts- Dugouts and bullpens are for athletes and coaches only.
E
Emergency Evacuation- In the event of an emergency, listen for instructions over the P.A.
Employment- For information about employment, please email spacecoast@usssa.com
Entrances- The Complex has entrances located at all of color-coordinated parking lots. The gates will be open depending on the event.
F
Firearms/weapons- The Complex strictly prohibits weapons or firearms. Any violators will be escorted out of the facility.
Field dimensions- Complex Map
Foul balls- The Complex is an active baseball/softball park, for your safety, please be aware of balls flying in foul territory. If you retrieve a ball, please return it to the umpire.
Field access- Credentialed coaches and athletes only are permitted on the fields at the complex.
Food/beverage- The Complex does not allow any outside food or drinks into the Complex.
G
Gate openings- Gates typically open 90 minutes prior to the start of the first game of the day.  Exceptions may be made for individual tournaments.
H
Hospitality areas- Please contact spacecoast@usssa.com for information about hospitality areas.
Handicap parking- In accordance with the ADA, disabled parking spaces are available at all entries into the Complex.
I
Inclement weather- In the event of inclement weather, please listen for the PA announcement for instructions.
J
Janitorial Services- The Complex will be cleaned throughout each event.  If you find an area that needs attention, please advise your Tournament Director or anyone with a USSSA Complex Crew shirt on.
K
L
Lost and Found- Lost and found is located inside the Pro Shop adjacent to the Space Coast Stadium building.
Local attractions-
Beachfront properties

Westgate Cocoa Beach Pier

Canaveral National Seashore – 23 miles of undeveloped beaches

Port Canaveral – the world's 3rd largest cruise passenger port
Team-building Activities
Treetop Trek Aerial Adventures at Brevard Zoo

Warrior Course at Sky Zone Space Coast

Frisbee Golf at Duran Golf Course
National home of space exploration:
Kennedy Space Center Visitor Complex

American Space Museum and Space Walk Hall of Fame
Discounted tickets available at the pro shop
Wildlife
Merritt Island National Wildlife Refuge

Thousand Islands in Cocoa Beach
Shopping & Dining
The Avenues – outdoor shopping with over 70 stores, 20 restaurants, and AMC theatre

The Cove – Port Canaveral's port entertainment district

Beachfront Dining
Visit one of Brevard County's unique cities:
Viera (the home of Space Coast Stadium)

Melbourne & the Beaches

Cocoa Beach

Port Canaveral

Titusville
Lost children/guests- Lost children/guests will be escorted to the Pro Shop adjacent to the Space Coast Stadium Building.
M
Merchandise-Merchandise is generally on sale at tent locations throughout the Space Coast Complex and at the Pro Shop located adjacent to the Space Coast Stadium building.
Music-The Complex reserves the right to prohibit music. If music is played, it must be appropriate in the sole discretion of Complex Management.
Maps- There is a map of the USSSA Space Coast Complex located at the South Entrance of the complex. You can also access a map here.
N
Noise Makers- There are no noise-makers allowed in the Complex.
O
Outside food and drinks- The Complex does not allow any outside food or drinks into the Complex.
P
Parking- The Complex has three paved parking areas that will be used as a primary location for guests to park their vehicles (red, white, and blue parking).  For RV Parking, see Buses/RV.
Pets- see "Animals"
Q
Quads- Map
R
Restrooms- Restrooms are provided in all areas.
Rain/Weather delay- In the event of a weather delay please listen to PA announcements for instructions or visit the event website for updates.
RV Parking- See Buses/RV.
S
Social Media-
Twitter- @usssaspacecoast
Instagram- @usssaspacecoast
Facebook- USSSA Space Coast Complex
Schedules- for schedule information please see- usssaspacecoast.com/calendar
Strollers- Strollers are allowed in the Complex.
Seating- For your convenience, all fields at the Complex have seating available.
Sponsorship opportunities- for information about sponsorship opportunities, please email sponsorship@usssa.com
Solicitation- Solicitation at the Complex is strictly prohibited. Persons who violate this policy will immediately be removed from the property.
T
Tailgating- Tailgating is strictly prohibited at the Complex.
Travel- Anthony Travel is the USSSA Space Coast Complex official partner for event travel details. Please see usssatravel.com
Tents- Tents are permitted as long as they do not affect the views of others.  Tents must be secured in the event of inclement weather.
U
Umbrella- For viewing purposes, the Complex kindly asks guests to only use personal size umbrellas inside of the Complex.  
V
Viera- The new home of USSSA Space Coast Complex offers a wide variety of exciting family friendly activities. With beaches only a 15 minute drive from the complex and shopping dining across the street, Viera is the ideal town to host tournaments.
W
Water- see coolers.
Wi-Fi- The USSSA Space Coast Complex offers free Wi-Fi for guests. Users must agree to the terms in order to access the Internet.
Website- usssaspacecoast.com