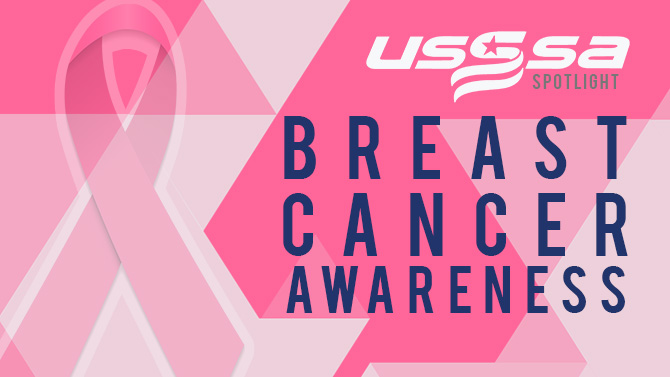 Viera, FL-October 25, 2017-Jeff and Rhonda Strode were hosting the USSSA/USAY Destin & Fort Walton Beach World Series in July of 2016 when they got news that rocked their world. Rhonda, a softball mom of two and self-described fighter was diagnosed with advanced stage 3B breast cancer. Jeff, a USSSA Fastpitch Vice President and long time event director, and Rhonda would find themselves in an entirely new competition.
"You kind of go blank. I took 24 hours, and then I had my game plan" Rhonda described of her initial reaction to the news.
Jeff and Rhonda Strode host USSSA Fastpitch tournaments in South Alabama, Mississippi, and the Florida Panhandle. They have created a softball sanctuary in the south, where kids can play ball and be part of a community. This softball community they created provided much needed support for the Strodes as they fought this new battle.
"I was and am so fortunate. I couldn't even tell you the number of teams sending me care packages… pajamas, flowers, food, everything" said Rhonda.
According to Susan G. Komen Cancer Foundation, in 2017, an estimated 252,710 new cases of invasive breast cancer are expected to be diagnosed in women in the U.S., along with 63,410 new cases of non-invasive breast cancer.
Rhonda's diagnosis required immediate action which began with weekly chemotherapy treatments. "There's nothing easy about chemo. You go in at 7am and don't leave until 4pm. It is a long day. They pump you full of poison and then you go home, feel awful, knowing you have to do it all over again the next week."
Jeff added deeper insight into the daily fight his wife endured. "What she doesn't tell you are the nights she spent on the floor of the bathroom. She would sleep in there because it was too much to keep getting up and going back and forth to bed."
"But I was lucky…" responding to her husband, "I saw so many women going through it all by themselves. It's hard to do that by yourself, everybody needs a person, just to be there." The USSSA softball community that the two helped build was there, "I had people fighting over who would come with me to treatments."
Jeff's long-time presence in the USSSA softball community has created lasting relationships and friendships far beyond the softball field. The Strodes are grateful to know that the fastpitch community rallied around them during this tough time.
About 40,610 women in the U.S. are expected to die in 2017 from breast cancer, though death rates have been decreasing since 1989. Women under 50 have experienced larger decreases. These decreases are thought to be the result of treatment advances, earlier detection through screening, and increased awareness. (Susan G Komen)
"The key is the early detection" said Rhonda, "gene testing is the answer, get the test and find out as soon as possible. Insurance companies won't cover it, they don't even cover mammograms until after the age of 40. We need to start making some changes".
Rhonda's great-grandma and two of her aunts passed away from breast cancer, yet she didn't qualify for her insurance company to cover the early detection tests. Most insurance companies require one's mother or grandmother to have had breast cancer in order to qualify for the company to cover the test and they won't cover mammograms until after the age of 40. According to breastcancer.org, the cost of early detection gene testing ranges from approximately $300 to $5,000, depending on whether one is being tested for only a specific area(s) of a gene known to be abnormal or if hundreds of areas are being examined within multiple genes. "I'm on a mission now that I've had it. Women need to start coming together for some change".
Rhonda is looking forward to retirement but not for the same reason that most people do. "When I get a chance to retire, I will be a cheerleader for the women who are doing it alone. That is my goal… I was so lucky". Rhonda said.
Rhonda Strode is an inspiration for us all. She found meaning and strength through this difficult time wondering, "Maybe that's why all this happened to me. Maybe I am meant to be in there, cheering other women on, and just be there for people".
Rhonda is currently in remission but doctors have recently found traces of pre-breast cancer that they will need to keep an eye on. However, she still considers herself lucky, knowing that there are people dealing with similar struggles all alone. She knows her fight isn't over, but with the support of her family, friends and USSSA fastpitch softball community she is ready for battle.
---