2020 Space Coast World Series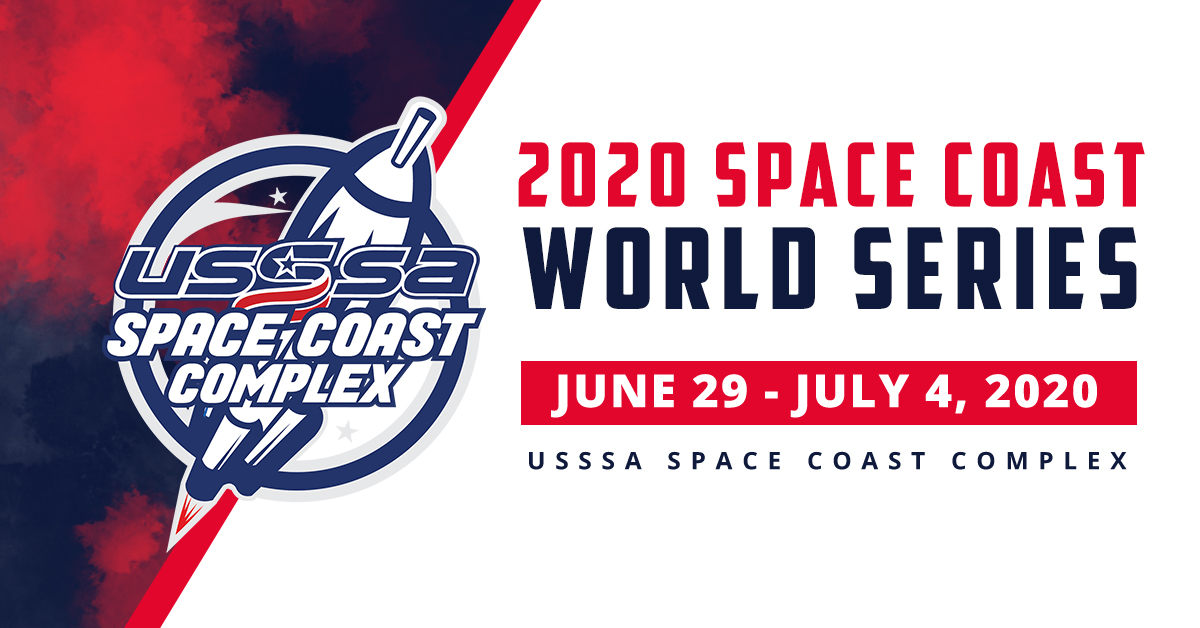 Registration is OPEN  |  CLICK TO ENTER | Information Packet
Welcome to the USSSA Space Coast World Series! This championship event is USSSA Fastpitch's only World Series stature event and is played at USSSA's world class Fastpitch facility – USSSA Space Coast Complex in Viera, Florida. This event is open to all age divisions 8U – 18U. Refer to the Information Packet for detailed information on the event.
Tournament Itinerary – Subject to change.
Monday June 29th
9:00am- 12:00pm       Team Check In 
9:00 am – 1:00 pm   USSSA Pride Instructional Camp (open to all athletes ages 8-18)
12:00 pm-1:00 pm   Coaches Meeting @ Red Quad Clubhouse
2:00 – 3:00 pm       Building Champions Panel (tickets available for athletes, parents, coaches)
3:00 pm  Battle of the Bats
(This event is designed so players can try out the newest bats at no cost to them. The setting is multiple backstops lined up on the fields with pitching machines, softballs, mats and protective screens. The player gets 10-12 pitches at a time to try out the bats and hit out into the field so they can judge distance, performance and feel.)
6:00 pm USSSA Pride Game
Tuesday July 30th
Pool Play/Senior Tribute
Wednesday July 1st  
Pool/Bracket Play
Thursday July 2nd
Bracket Play
Friday July 3rd 
Bracket Play
Saturday July 4th
Championship Games
Note that all times are subject to change. Please verify itinerary during Team Check-In. Once the tournament begins, managers must check the main bracket board for any changes in game times, field assignments or other items related to tournament play or functions. Bracket schedules will not be mailed out in advance. 
Rosters and Covid waiver
All teams must have their rosters online before the tournament begins. This allows us to utilize our game scoring and live streaming apps and protects the integrity of your roster should there be a protest. Managers can upload rosters by logging on to their Team Manager account at https://www.usssa.com/login
Due to the recent Covid-19 pandemic, USSSA has created a waiver that must be signed in order to participate in the Space Coast World Series or any USSSA sanctioned event.  Each parent must log into their child's account and sign the waiver.
Senior Recognition
This Summer we want to provide Class of 2020 participants with the opportunity of a Senior Day celebration! We will be hosting a Senior Tribute for all High School Seniors at the Space Coast World Series/World Fastpitch Championship.
In order to make this tribute special, we need your help. Please provide us with the following information to Courtney.Ceo@usssa.org:
Athlete Name
Parent Name(s)
Athlete Photo (softball senior photos)
College Attending (if playing softball please specify)
Favorite Softball player?
How many years has athlete played softball?
Short description of the athletes accolades
LODGING/TRAVEL INFORMATION
It is each individual athlete's responsibility for transportation, lodging, etc. during the culminating event. Our travel policy requires all teams to book lodging through Anthony Travel. Anthony Travel secures room blocks at the closest available hotels and negotiates the lowest rates and best amenities for teams.
Anthony Travel has a lowest price guarantee. If you don't see something that fits your need please do not hesitate to reach out to them directly via email at USSSA@anthonytravel.com or via phone at 855-501-7114
LOCATION
This event will be hosted at the USSSA Space Coast Stadium and Complex in Viera, FL.
5800 Stadium Pkwy | Melbourne, FL 32940
Website: www.USSSASpaceCoast.com
SPACE COAST COMPLEX A-Z COMPLEX POLICIES
USSSA Space Coast Complex has 14 AstroTurf fields. Metal cleats are prohibited. Athletes may wear turfs, molded cleats, or tennis shoes. 
CLICK HERE for Complex Policies
DAILY ADMISSION
For ticket pricing please visit: https://www.etix.com/ticket/v/15433/usssa-space-coast
AAG participants will receive credentials at check in and will not need to purchase tickets for themselves.  Participant credentials will also get them into the Pride games.  Spectators will be able to get into the Pride games using their LOE ticket.
LIVE STREAMING
All games will be streamed live. Go to www.USSSALive.com.
Pin Trading
USSSA does not have any formal pin trading event set up for the Space Coast World Series however teams are able to trade pins during this event at any time.
Gift Exchange
Due to Covid-19, we have decided to not have a gift exchange this year.