2022 USSSA Space Coast Cup Super Regional Championship
June 22, 2022

-

June 26, 2022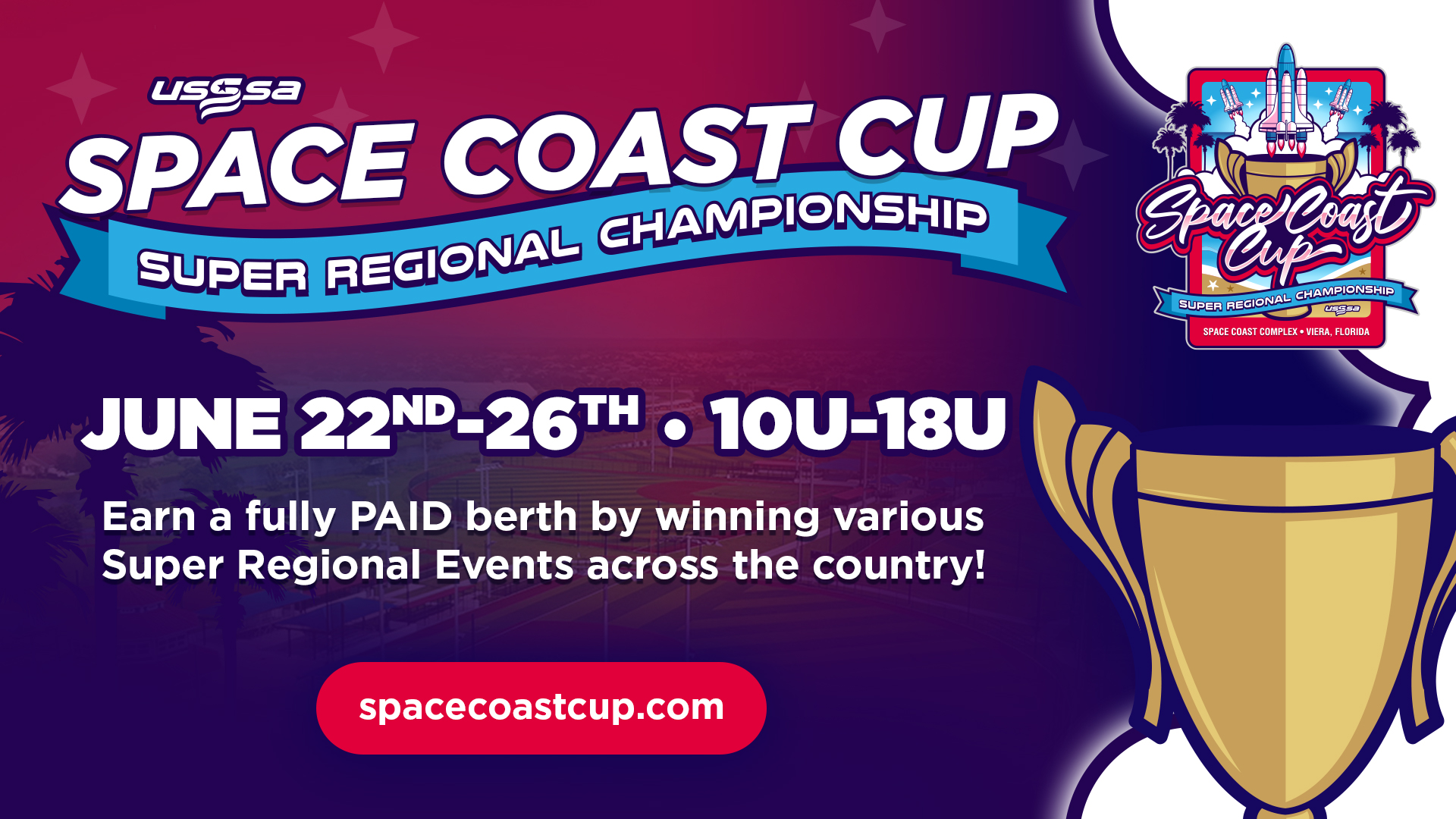 Welcome to the USSSA Space Coast Cup Super Regional Championship!
SPACE COAST CUP SUPER REGIONAL EVENT INFORMATION (10B-18B)
The 2022 Space Coast Cup will take place June 22-26, 2022 at Space Coast Complex in Viera, FL. Teams can earn a fully PAID berth to this event by winning one of the various Super Regional Events across the country. These Super Regional Events will all qualify registered "B" level teams to the finishing event next June. In order to qualify, teams must be registered "B" at the time of the Super Regional or upon entering the Space Coast Cup Championships. The Space Coast Cup will be a 5 Game Guarantee event with 3 pool games into a double-elimination bracket.
SPACE COAST CUP SUPER REGIONAL CHAMPIONSHIP INFORMATION
June 22-June 26, 2022 (10B-18B)
TENTATIVE ITINERARY
Wednesday, June 22, 2022
8AM-12PM Pride Instructional Clinic (see information below) @ Blue Quad
10AM-11:30AM  Manager's Check-In n @ Banquet Room (2nd floor concourse on 1st base side)
11:30AM-12:15PM  Manager's Meeting @ Banquet Room (2nd floor concourse on 1st base side)
1:00PM-4:00PM  Player Party/Festival, Pin Trading @Casey Statue
1:00PM -4:00PM Battle of the Bats (located in the cages outside the main stadium)
6:00PM-6:30PM  Parade of Champions @Fastpitcch Stadium (enter through right field, exit through left field)

5:30PM Staging @Casey Statue

7PM Pride vs Vipers @Fastpitch Stadium
Thursday, June 23, 2022
Gates open at 8:30AM
Pool Games Begin
7PM Pride vs Vipers @Fastpitch Stadium
Friday, June 24, 2022
Gates open at 8:30AM
Pool Games/Bracket Games Begin
9AM Pride Athlete Chalk Talk

Chalk talks are small classroom setting where Youth Athletes get to sit with Pride Athletes to discuss current topics related to the game, college, school and future opportunities within the sport.  We provide this experience for the youth to have access to professional athletes, to provide an environment in an open discussion forum and enhance the experience as well as empower our Youth Fastpitch Athletes.
Saturday, June 25, 2022
Gates open at 7AM
Bracket Games/Elimination Begins
7PM Pride vs Vipers @ Fastpitch Stadium
Sunday, June 26, 2022
Gates open at 7AM
Looser Bracket Championship/Championship Games

Last game to be played at 12PM

7PM Pride vs Vipers @ Fastpitch Stadium
USSSA PRIDE INSTRUCTIONAL CLINIC (OPEN TO AGES 8-18)
These instructional-based clinics are focused on athlete development and instruction. Clinics will be instructed by current players on the USSSA Pride, a member of the National Pro Fastpitch league. The clinic is designed to offer low athlete to coach ratios which provide participants an engaging experience with some of their favorite professional fastpitch players! Instruction will focus on offense, defense, game strategy, and athleticism.
$95

 

(Walk ups welcome,

 

$100

 

for onsite registration)
Location:

 

USSSA Space Coast Complex
Event Date and Time: June 22nd 8AM-12PM
Register Now for USSSA Pride Instructional Clinic
BATTLE OF THE BATS 
Battle of the Bats will feature our top manufacturers – Easton, Rawlings, Demarini, Louisville Slugger, and Marucci
Allows athletes the opportunity to swing all the newest bats and try them out before having to buy them.
Bat manufacturers will be on hand to answer any questions
Helmets must be worn when hitting off the machines!
LODGING/TRAVEL INFORMATION
The Space Coast Cup is a Stay-to-Play event.  USSSA and Anthony Travel have worked hard to contract rates lower than the best flexible rates that are advertised on the hotel's websites. Booking with Anthony Travel provides multiple protections and benefits as indicated below:
24 Hour Assistance During Tournament Dates
Room Type Guarantee – if hotel is unable to honor your reservation as booked they are responsible for covering your stay
Oversold Protection – if hotel is oversold, they cannot move Anthony Travel guests
Tournament Cancellation Protection – if the entire tournament is cancelled, your reservation is automatically cancelled with no penalty regardless of the timeline
Price Protection – our rate has to be lower than the hotel website's best flexible rate
Inventory is normally contracted for the event dates. If you are looking for a room outside of the event dates, all hotels will most likely show as sold out. We recommend you book for the event dates as that will show what hotels are available and request the remaining dates that you would want to add to your reservation that are outside of the event dates. If you have any questions or need any assistance in booking, please reach out to our team via phone 855-501-7114 or email 
usssatravel@onlocationexp.com
LOCATION
This event will be hosted at the USSSA Space Coast Stadium and Complex in Viera, FL.
5800 Stadium Pkwy | Melbourne, FL 32940
Website:www.USSSASpaceCoast.com
SPACE COAST COMPLEX A-Z COMPLEX POLICIES
The following policies apply at all times: 
No alcoholic beverages may be brought into the complex
Service animals as defined by the American with Disabilities Act are permitted
No firearms or weapons in the complex
No food or drink may be brought into the complex Except: Individual players are permitted 1 personal water jug up to 74fl oz. in size and 1 small cooler with ice and towels only.
No bikes, skates or skateboards in the complex
The Space Coast Complex is a No-Smoking Facility
All bags and purses are subject to search
Outside Food and Beverage
USSSA Space Coast Complex Food and Beverage Policy:
Space Coast Complex does not allow any outside food or Beverages inside the complex. Each team is allowed (1) Team cooler with water, ice, and towels ONLY. Wristbands for team coolers are required and will be distributed to coaches by Tournament Directors at registration. Teams will not be allowed to bring in coolers until a team representative has checked in with the Tournament Director. Any team who attempts to bring in any outside food and beverage other than water in the Team cooler will no longer be allowed a team cooler. Individual players are permitted 1 personal water jug up to 74fl oz. in size and 1 small cooler with ice and towels only.
Lost and Found
Lost and Found is located at the Pro Shop near the Space Coast Stadium.
Turf/Bullpen/Dugout Rules
No metal cleats. Only molded cleats and athletic shoes are accepted. No gum or sunflower seeds are allowed at Space Coast Complex.
No food, beverages, gum or seeds of any kind allowed
No glass bottles or containers, no outside alcohol of any kind allowed
No sharp objects, including tent stakes or chairs
No liquids other than water
No smoking of any kind
Lightning
All guests are required to leave the complex until the lightning delay has cleared. The gates will be locked until the delay has been cleared by Complex Staff.  Please follow the Rainout Line (information listed below) for updates on any weather delays.
Restrooms will be available at Space Coast Stadium Concourse as well as the Clubhouse located near the Red Quad.
Tents
Tents are restricted to low traffic areas around the outfield fence. No tents are permitted in high traffic areas including behind home plate. In the Event of inclement weather, tents must be taken down for safety.
COMPLEX MAP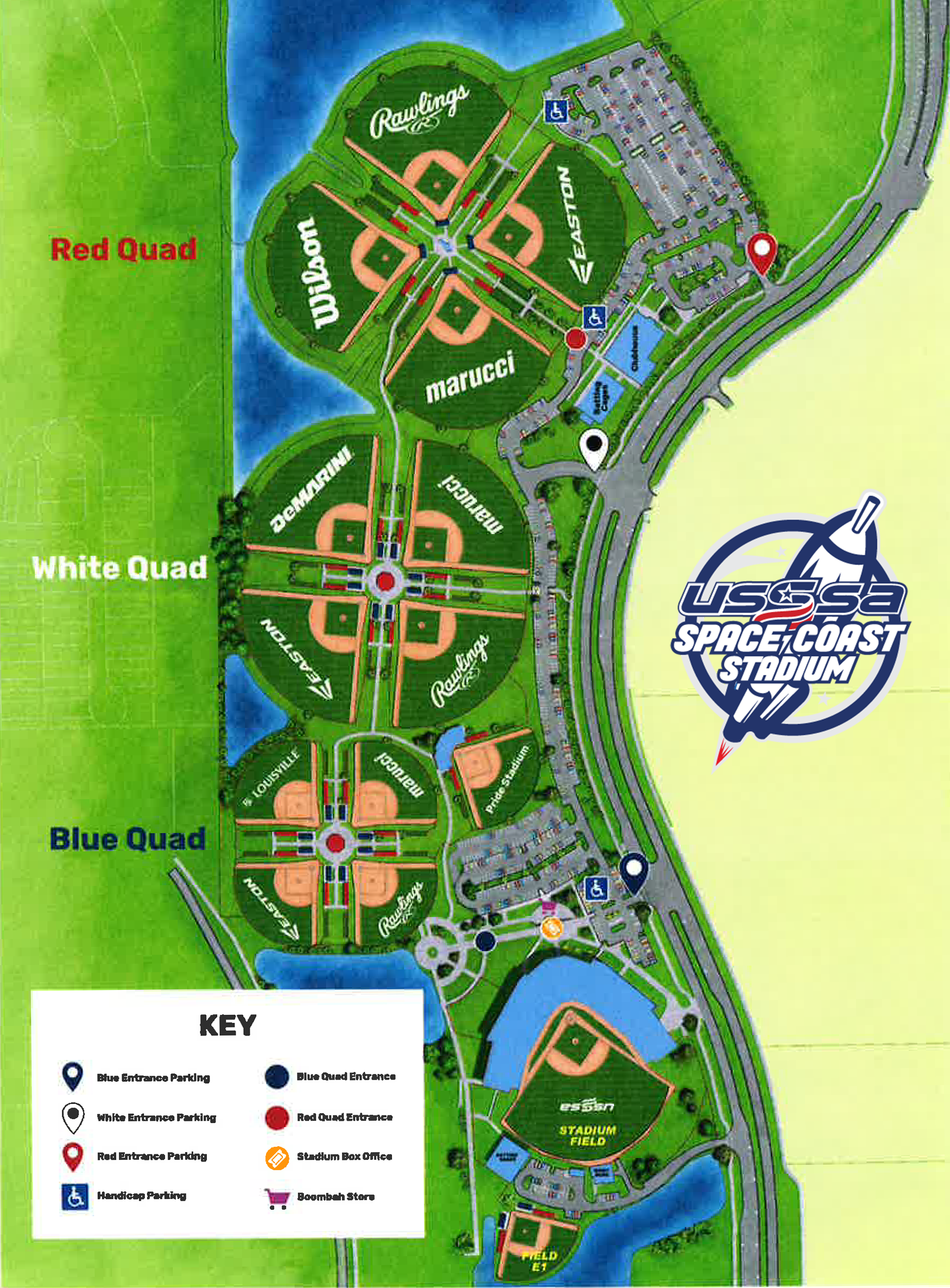 All tickets are General Admission, children 12 and under are free.
All advanced price tickets will end two days prior to each event start, at 11:59pm.
Each day guests will receive a wristband upon arrival, after having their ticket scanned. Wristbands must be worn on your wrist. You will not be allowed entry if they are placed anywhere else.
Teams will be given 3 coaching credentials. All other coaches must purchase a ticket.
Tickets and ticket prices are valid at Space Coast Complex ONLY. They will not be accepted at any other facility.
Space Coast Complex will not accept event tickets purchased from any other facility or website.
Player Credentials, Weekly and Daily tickets will get you admission into the Pride games.
RAINOUT LINE
In the event of inclement weather, we have a weather app that will help communicate to you the changes that are occurring in the event.  You will be able to subscribe via an Android or iPhone App to receive all updates on your phone.
(772) 208-6367
Log on to the website at www.RainoutLine.com or Download the RainoutLine App. Search: USSSA Fastpitch Tournaments
Select the Event location you will be attending:

Space Coast Cup

Click on the star to keep us locking in as one of your favorites
USSSA LIVE STREAMING
Subscribe today so you can catch every pitch from the Space Coast Cup LIVE on USSSALive.com. USSSALive is available on Apple TV, Roku, and Amazon Fire.
USSSA Live Subscriptions
Weekly $5.99
Monthly $9.99
Yearly $79.99
After your game you can re-watch the memories and even download your favorite plays using the Clip Extraction Feature. Grab a clip as little as $1.49. Just hover over the clip and choose the video cutter tool.
Video Editor Bundle
https://usssalive.com/video/Download_Your_Clips
Single Clip        $1.49
5 Clips              $4.99
10 Clips            $6.99
Whether you're at the field or at home you can enjoy USSSALive.com and take the action with you.
REFUND POLICY
No refunds will be issued at or anytime after registration has been entered and payment has been accepted.