2022 USSSA Space Coast World Series
June 26, 2022

-

July 1, 2022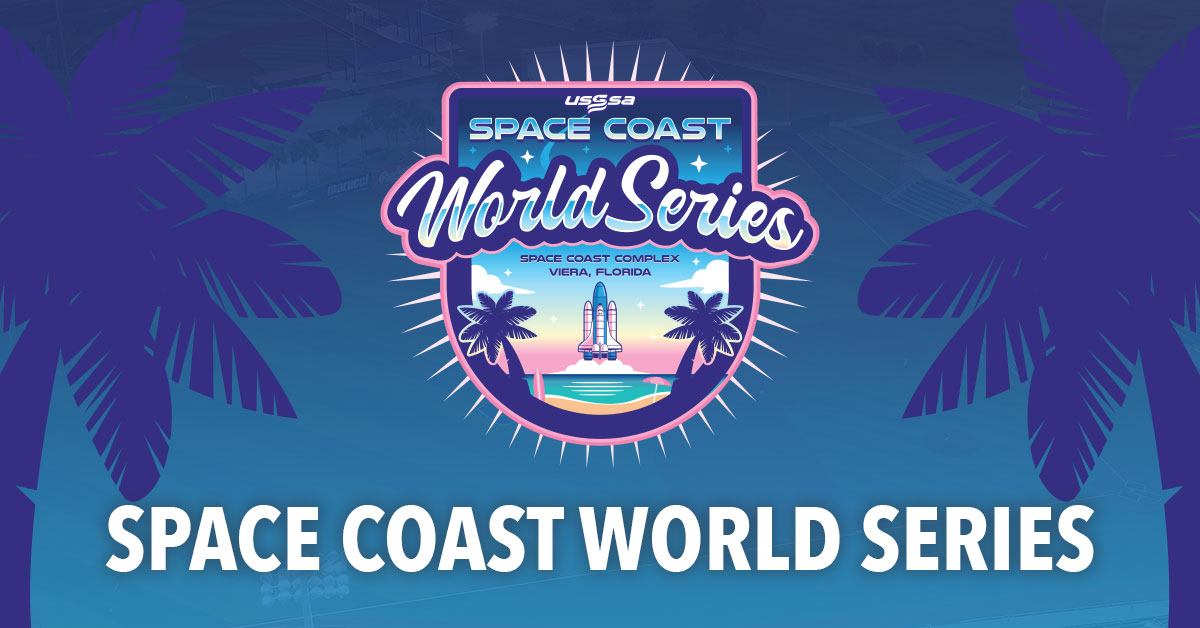 Welcome to the USSSA Space Coast World Series! This championship event is USSSA Fastpitch's only World Series stature event and is played at USSSA's world class Fastpitch facility – USSSA Space Coast Complex in Viera, Florida.  The Space Coast World Series is a 5 game guarantee with 3 pool games into a double elimination format.
Downloadable SCWS Information Packet
TENTATIVE ITINERARY 
Sunday June 26, 2022:
 8:00AM-12PM Pride Instructional Clinic (see details below)
10:00AM-11:30AM  Manager Check-in

 (Coach or Team Manager Only)

Holiday Inn Convention Center: 8298 Wickham Road Melbourne, FL 32940

Please have team birth certificates and team insurance certificate available upon request 
11:30PM -12:30PM  Manager Meeting

(Coach or Team Manager Only)

Holiday Inn Convention Center:

8298 Wickham Road Melbourne, FL 32940
2:00PM-5:00PM  Opening Ceremony Festivities/Pin Trading @Casey Statue
2:00PM-5:00PM Battle of the Bats (see description below) @ Cages next to main stadium
5:45PM-6:30PM Parade of Champions @Main Stadium (We strongly encourage all teams to take part in this parade)

5PM Staging for parade

(10U and 12sU Teams meet at Casey Statue, 14U Teams meet on Blue Rawlings Outfield, 16U and 18U Teams meet on Blue Easton Outfield)
7PM USSSA Pride vs Vipers @ Main Stadium
Monday June 27, 2022:
Pool Games
7PM USSSA Pride vs Vipers
Tuesday June 28, 2022:
Pool Games/Bracket
1PM Pride Chalk Talk @ Casey Statue
7PM USSSA Pride vs Vipers
Wednesday June 29, 2022:
Bracket Play
1PM Pride Chalk Talk @ Casey Statue
7PM USSSA Pride vs Vipers
Thursday June 30, 2022:
Bracket Play
Eliminations and Championships based on age division
7PM USSSA Pride vs Vipers
Friday July 1, 2022:
Eliminations and Championships based on age division
USSSA PRIDE INSTRUCTIONAL CLINIC (OPEN TO AGES 8-18)
These instructional-based clinics are focused on athlete development and instruction. Clinics will be instructed by current players on the USSSA Pride, a member of the National Pro Fastpitch league. The clinic is designed to offer low athlete to coach ratios which provide participants an engaging experience with some of their favorite professional fastpitch players! Instruction will focus on offense, defense, game strategy, and athleticism.
$95 (Walk ups welcome,

 

$100

 

for onsite registration)
Location:

 

USSSA Space Coast Complex (White Quad)
Event Date and Time:

 

Sunday June 26th from 8AM-12PM (Registration will begin at 7:30AM)
Battle of the Bats
Battle of the Bats is designed for players to try out the newest bats at no cost to them.

Battle of the Bats will feature our top manufacturers – Easton, Rawlings, Demarini, Louisville Slugger, and Marucci
Set up to allow athletes the opportunity to swing all the newest bats and try them out before having to buy them.
Bat manufacturers will be on hand to answer any questions
Helmets must be worn when hitting off the machines!
RAINOUT LINE
In the event of inclement weather, we have a weather app that will help communicate to you the changes that are occurring in the event.  You will be able to subscribe via an Android or iPhone App to receive all updates on your phone.
(772) 208-6367
Log on to the website at www.RainoutLine.com or Download the RainoutLine App. Search: USSSA Fastpitch Tournaments-USSSA Space Coast World Series
Select the Tryout location you will be attending.
Click on the star to keep us locking in as one of your favorites
PIN TRADING
USSSA does not have any formal pin trading event set up for the Space Coast World Series however teams are able to trade pins during this event at any time. Most times teams will trade pins while waiting for the Opening Ceremonies/Parade of Champions.
GIFT EXCHANGE
Every year, at the USSSA SPACE COAST World Series, teams participate in a goodie bag exchange AFTER their team's FIRST seeding game. This is fun and 100% voluntary.
If your team chooses to participate, each team is asked to prepare 15+ bags that contain items of local significance (that is, donated by your local businesses), handmade (always the best) or purchased at dollar stores or on sale. Examples are cute notepads, pens and pencils, sunflower seeds, lip gloss, head bands, cold neck wraps, jewelry trinkets, small lotions, scrunchies, sticker sheets, cute little items. The children can have fun crafting items or shopping for items but don't spend too much! Teams have given non-perishable food items significant to their area (i.e., maple syrup, jellies and jam, pecans, etc.). Have fun.
If your team plays a team who already played a game, we will arrange an exchange with another team(s) in the same situation.
To confirm your teams participation in the gift exchange please fill out the google doc below:
ROSTERS 
All teams must have their rosters online before the tournament begins. This allows us to utilize our game scoring and live streaming apps and protects the integrity of your roster should there be a protest. Managers can upload rosters by logging on to their Team Manager account.  
GUEST PLAYERS
Guest Players. A player already rostered on a USSSA team may be a "Guest Player" for another USSSA registered team. The manager of the team seeking the guest player must use the online guest player system at www.usssa.com and abide by its policies and rules. A State Director can choose to allow or not allow guest players for the State Tournament.
The guest players must be eligible.
See https://usssa.com/docs/2019/guest_player_guidelines.pdf for details.
Guest players can be added to locked rosters up to 3 hours before the event starts, not the teams first game.
LODGING/TRAVEL INFORMATION
The Space Coast World Series is a Stay-to-Play event.  USSSA and Anthony Travel have worked hard to contract rates lower than the best flexible rates that are advertised on the hotel's websites. Booking with Anthony Travel provides multiple protections and benefits as indicated below:
24 Hour Assistance During Tournament Dates
Room Type Guarantee – if hotel is unable to honor your reservation as booked they are responsible for covering your stay
Oversold Protection – if hotel is oversold, they cannot move Anthony Travel guests
Tournament Cancellation Protection – if the entire tournament is cancelled, your reservation is automatically cancelled with no penalty regardless of the timeline
Price Protection – our rate has to be lower than the hotel website's best flexible rate
Inventory is normally contracted for the event dates. If you are looking for a room outside of the event dates, all hotels will most likely show as sold out. We recommend you book for the event dates as that will show what hotels are available and request the remaining dates that you would want to add to your reservation that are outside of the event dates. If you have any questions or need any assistance in booking, please reach out to our team via phone 855-501-7114 or email 
usssatravel@onlocationexp.com
LOCATION
This event will be hosted at the USSSA Space Coast Stadium and Complex in Viera, FL.
5800 Stadium Pkwy | Melbourne, FL 32940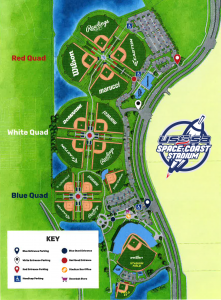 SPACE COAST COMPLEX A-Z COMPLEX POLICIES
Wristbands
Wristbands will be distributed to guests at the gate after their ticket is scanned each day. Guests will be required to wear the wristband on your wrist, until you have left the Complex for the day.
Outside Food and Beverage
Space Coast Complex does not allow any outside food or Beverages inside the complex. Each team is allowed (1) Team cooler with water, ice, and towels ONLY. Wristbands for team coolers are required and will be distributed by the Tournament Director. Teams will not be allowed to bring in coolers until a team representative has checked in with the Tournament Director. A team cooler will no longer be allowed to any team who attempts to bring in any outside food and beverage other than water inside the Team cooler. Individual players are permitted 1 personal water jug up to 74fl oz. in size and 1 small cooler with ice and towels only.
Lost and Found
Lost and Found is located at the Pro Shop near the Space Coast Stadium.
Turf
No metal cleats. Only molded cleats and athletic shoes are accepted. No gum or sunflower seeds are allowed at Space Coast Complex.
Lightning
All guests are required to leave the complex until the lightning delay has cleared. The gates will be locked until the delay has been cleared by Complex Staff.
Restrooms will be available at Space Coast Stadium Concourse as well as the Clubhouse located near the Red Quad.
Tents
Tents are restricted to low traffic areas around the outfield fence. No tents are permitted in high traffic areas including behind home plate. In the Event of inclement weather, tents must be taken down for safety.
CLICK HERE FOR COMPLEX POLICIES
DAILY ADMISSION
SCWS participants will receive credentials at check in and will not need to purchase tickets for themselves.  Participant credentials will also get them into the Pride games.  Spectators will be able to get into the Pride games using their daily or weekly pass.
Daily Tickets: $16.00
https://www.etix.com/ticket/e/1026553/space-coast-world-series-june-2022-viera-usssa-space-coast
Ticket Package: Presale: $72.00 / Day-Of: $88.00
https://www.etix.com/ticket/k/9699144/space-coast-world-series-package-june-26july-12022-viera-usssa-space-coast
All tickets are General Admission, children 12 and under are free.
All advanced price tickets will end two days prior to each event start, at 11:59pm.
Each day guests will receive a wristband upon arrival, after having their ticket scanned. Wristbands must be worn on your wrist. You will not be allowed entry if they are placed anywhere else.
Teams will be given 3 coaching credentials. All other coaches must purchase a ticket.
Tickets and ticket prices are valid at Space Coast Complex ONLY. They will not be accepted at any other facility.
Space Coast Complex will not accept event tickets purchased from any other facility or website.
Player Credentials, Weekly and Daily tickets will get you admission into the Pride games.
USSSA LIVE STREAMING
Subscribe today so you can catch every pitch from the Space Coast World Series LIVE on USSSALive.com.  USSSALive is available on Apple TV, Roku, and Amazon Fire.
USSSA Live Subscriptions
Weekly $5.99
Monthly $9.99
Yearly $79.99
After your game you can re-watch the memories and even download your favorite plays using the Clip Extraction Feature. Grab a clip as little as $1.49. Just hover over the clip and choose the video cutter tool.
Video Editor Bundle
Single Clip        $1.49
5 Clips              $4.99
10 Clips            $6.99
Whether you're at the field or at home you can enjoy USSSALive.com and take the action with you.
NCSA (NEXT COLLEGE STUDENT ATHLETE)
Next College Student Athlete (NCSA) is the world's largest and most successful college athletic recruiting network. NCSA was founded in 2000 to help educate student-athletes and their families on the college athletic recruiting process. Today, NCSA works with families, club, high school and college coaches to helps hundreds of thousands of student-athletes find their best college fit.
NCSA leverages proprietary technology and data with professional expertise and personal relationships to offer recruiting support to families, club and high school coaches, and college coaches. NCSA recruits for 34 different sports.
Since 2000, more than 200,000 NCSA clients have reported their commitment to a college team. But what really drives success for NCSA and its clients is the passionate team of former college coaches and athletes who use their firsthand knowledge and expertise to help athletes at every step in the recruiting process.
USSSA Space Coast Complex Polices: Read Here
AstroTurf Polices: Read Here
REFUND POLICY
Any refund request past June 1st will not be accepted.