USA Elite Select: Legends In The Making with Lauren Chamberlain
November 19

-

November 21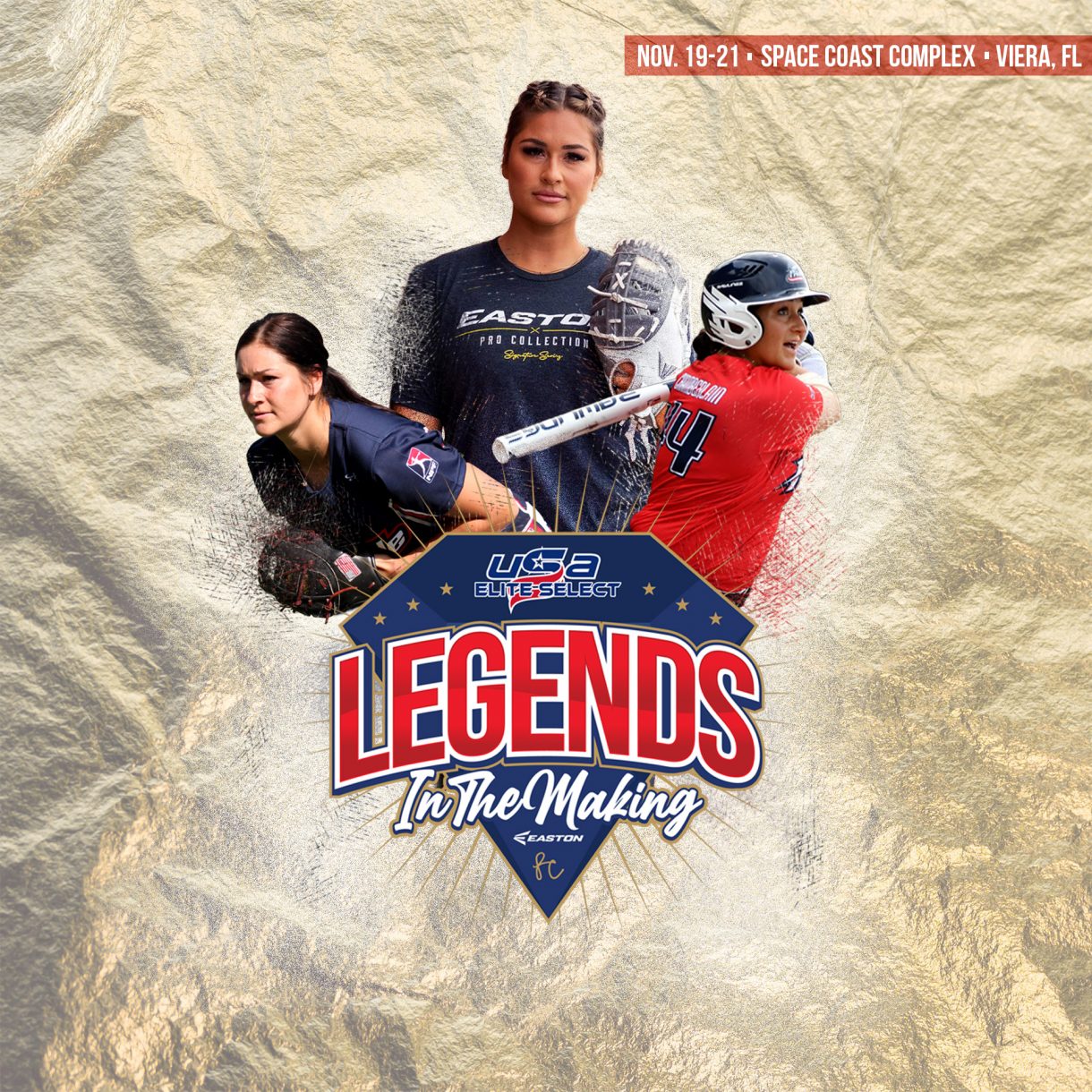 A LEGENDARY EVENT
The Legends in the Making event is a LEGENDARY new type of tournament.
Not only do you have a 5-Game guarantee with 4 pool games into a single elimination bracket, but you have a lineup of events throughout:
Heavy Hitter Home Run Derby: This derby is sponsored by Easton, where top hitters will be selected to face off in hopes of being the TOP HEAVY HITTER!
Autograph Opportunities with Softball Legend Lauren Chamberlain
And more!
TENTATIVE ITINERARY
Saturday November 20th:
Pool Games
5PM Meet and Greet with Lauren Chamberlain
6PM Homerun Derby
Homerun Derby

Each coach is asked to nominate up to 2 players to enter the Legends in the Making Homerun Derby.  Each player nominated is expected to bring their own front-tosser.  Participants will get a two minute round to hit as many homeruns as possible.  For the younger age divisions, we will mark off the farthest hit ball with a cone.  The winner in each of the three age divisions will receive an Easton bat and a championship ring. 
Sunday November 21st: 
Pool/Bracket/Championship Games
LODGING/TRAVEL INFORMATION
This event is a Stay to Play event.  It is each individual athlete's responsibility for transportation, lodging, etc. during the culminating event. Our travel policy requires ALL participants to book lodging through Anthony Travel. Anthony Travel secures room blocks at the closest available hotels and negotiates the lowest rates and best amenities for participant.  If you do not wish to book through Anthony Travel, you can contact them for the buyout fee.  All participants will need to go through Anthony Travel at check in to verify they are compliant.
Anthony Travel has a lowest price guarantee. If you don't see something that fits your need please do not hesitate to reach out to them directly via email at USSSA@anthonytravel.com or via phone at 855-501-7114.
ROSTERS 
All teams must have their rosters online before the tournament begins. This allows us to utilize our game scoring and live streaming apps and protects the integrity of your roster should there be a protest. Managers can upload rosters by logging on to their Team Manager account.
LOCATION
This event will be hosted at the USSSA Space Coast Stadium and Complex in Viera, FL.
5800 Stadium Pkwy | Melbourne, FL 32940
Website:  www.USSSASpaceCoast.com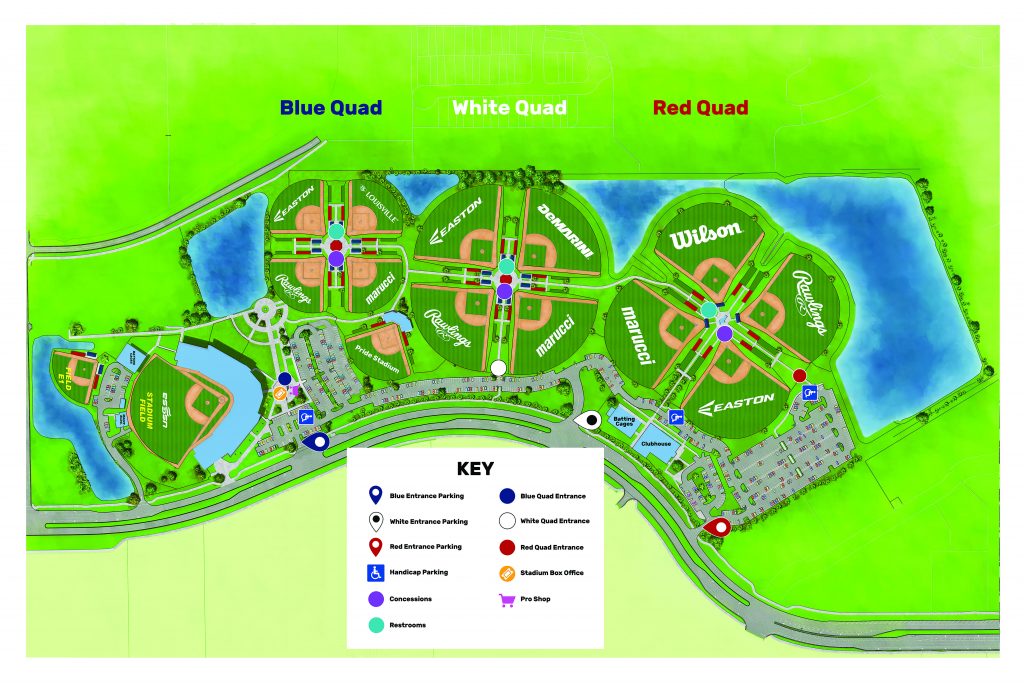 SPACE COAST COMPLEX A-Z COMPLEX POLICIES
The following policies apply at all times: 
No alcoholic beverages may be brought into the complex
Service animals as defined by the American with Disabilities Act are permitted
No firearms or weapons in the complex
No food or drink may be brought into the complex Except: Individual players are permitted 1 personal water jug up to 74fl oz. in size and 1 small cooler with ice and towels only.
No bikes, skates or skateboards in the complex
The Space Coast Complex is a No-Smoking Facility
All bags and purses are subject to search
Outside Food and Beverage
Space Coast Complex does not allow any outside food or Beverages inside the complex. Each team is allowed (1) Team cooler with water, ice, and towels ONLY. Wristbands for team coolers are required and will be distributed to coaches by Tournament Directors at registration. Teams will not be allowed to bring in coolers until a team representative has checked in with the Tournament Director. Any team who attempts to bring in any outside food and beverage other than water in the Team cooler will no longer be allowed a team cooler. Individual players are permitted 1 personal water jug up to 74fl oz. in size and 1 small cooler with ice and towels only.
Lost and Found
Lost and Found is located at the Pro Shop near the Space Coast Stadium.
Turf/Bullpen/Dugout Rules
No metal cleats. Only molded cleats and athletic shoes are accepted. No gum or sunflower seeds are allowed at Space Coast Complex.
No food, beverages, gum or seeds of any kind allowed
No glass bottles or containers, no outside alcohol of any kind allowed
No sharp objects, including tent stakes or chairs
No liquids other than water
No smoking of any kind
Lightning
All guests are required to leave the complex until the lightning delay has cleared. The gates will be locked until the delay has been cleared by Complex Staff.  Please follow the Rainout Line (information listed below) for updates on any weather delays.
Restrooms will be available at Space Coast Stadium Concourse as well as the Clubhouse located near the Red Quad.
Tents
Tents are restricted to low traffic areas around the outfield fence. No tents are permitted in high traffic areas including behind home plate. In the Event of inclement weather, tents must be taken down for safety.
CLICK HERE FOR COMPLEX POLICIES
DAILY ADMISSION
Tickets
All guests are required to purchase a ticket prior to entering USSSA Space Coast Complex. To purchase a ticket, click on the link below, or visit usssaspacecoast.com, click on the ticket drop down and select the ticket you would like to purchase. There will be no Box Office available at USSSA Space Coast Complex. QR Codes will be available at each entrance for guests who have not purchased a ticket prior to their game.
Wristbands
Wristbands will be distributed to guests at the gate after their ticket is scanned each day. Guests will be required to wear the wristband on your wrist, until you have left the Complex for the day.  Participants and spectators 12 and younger will not need to purchase admission
Daily Tickets:   Everyone ages 12 and Up – Presale: $39.00 (Presale ends at 11:59pm on 11/17/21) / Day-Of Price: $48.00 (Begins at 12am on 11/18/21)
https://www.etix.com/ticket/e/1022061/legends-in-the-making-nov-2021-viera-usssa-space-coast
RAINOUT LINE
In the event of inclement weather, we have a weather app that will help communicate to you the changes that are occurring in the event.  You will be able to subscribe via an Android or iPhone App to receive all updates on your phone.
(772) 208-6367
Log on to the website at www.RainoutLine.com or Download the RainoutLine App. Search: USSSA Fastpitch Tournaments
Select the Event location you will be attending: Legends in the Making
Click on the star to keep us locking in as one of your favorites
USSSA LIVE STREAMING
Subscribe today so you can catch every pitch from the Legends in the Making  LIVE on USSSALive.com. USSSALive is available on Apple TV, Roku, and Amazon Fire.
USSSA Live Subscriptions
Weekly $5.99
Monthly $9.99
Yearly $79.99
After your game you can re-watch the memories and even download your favorite plays using the Clip Extraction Feature. Grab a clip as little as $1.49. Just hover over the clip and choose the video cutter tool.
Video Editor Bundle
https://usssalive.com/video/Download_Your_Clips
Single Clip        $1.49
5 Clips              $4.99
10 Clips            $6.99
Whether you're at the field or at home you can enjoy USSSALive.com and take the action with you.
REFUND POLICY
No refunds will be issued at or anytime after registration has been entered and payment has been accepted.