Space Coast Power 50
October 27, 2022

-

October 30, 2022

$1395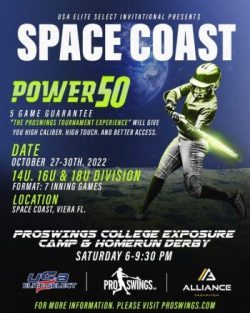 Space Coast Power 50
Event Details:
🚨 SAVE THE DATE: USA Elite Select Space Coast Power 50
October 27-30 ProSwings & USA Elite Select will be hosting the Space Coast Power 50 tournament in Viera, FL this Fall which will bring some of the very BEST teams from across the Southeast, Northeast, Midwest and beyond.
This event will hold 80 teams. Competing Divisions include: 14u, 16u & 18u. Games begin as early as 8AM on Friday, October 28th.
The Space Coast Power 50 event will also include an added exposure component of hosting a College Exposure Camp and Homerun Derby of "Pros vs. Campers" the Saturday evening of the event.
Any teams looking to compete in this event, please make sure to apply using the link below. All teams must be elite and competitive on a national level.
Date:
October 27th – 30th
Divisions:
14U, 16U, 18U USA Elite Select and A Division
Daily Admission:
Tickets
All guests are required to purchase a ticket prior to entering USSSA Space Coast Complex. To purchase a ticket, click on the link below, or visit usssaspacecoast.com, click on the ticket drop down and select the ticket you would like to purchase. There will be no Box Office available at USSSA Space Coast Complex. QR Codes will be available at each entrance for guests who have not purchased a ticket prior to their game.
Wristbands
Wristbands will be distributed to guests at the gate after their ticket is scanned each day. Guests will be required to wear the wristband on your wrist, until you have left the Complex for the day.
Participants and spectators 12 and younger will not need to purchase admission.  Daily and weekly packages will allow spectators into the USSSA Pride games.  Participants will be permitted into USSSA Pride games using their credentials.
CLICK HERE FOR TICKET PRICING
Housing: 
This event is a Stay to Play event. It is each individual athlete's responsibility for transportation, lodging, etc. during the culminating event. Our travel policy requires ALL participants to book lodging through Anthony Travel. Anthony Travel secures room blocks at the closest available hotels and negotiates the lowest rates and best amenities for participant. If you do not wish to book through Anthony Travel, you can contact them for the buyout fee. All participants will need to go through Anthony Travel at check in to verify they are compliant.
Anthony Travel has a lowest price guarantee. If you don't see something that fits your need please do not hesitate to reach out to them directly via email at USSSA@anthonytravel.com or via phone at 855-501-7114.
BOOK LODGING
USSSA Space Coast Complex Polices:
The following policies apply at all times: 
No alcoholic beverages may be brought into the complex
Service animals as defined by the American with Disabilities Act are permitted
No firearms or weapons in the complex
No food or drink may be brought into the complex Except: Individual players are permitted 1 personal water jug up to 74fl oz. in size and 1 small cooler with ice and towels only.
No bikes, skates or skateboards in the complex
The Space Coast Complex is a No-Smoking Facility
All bags and purses are subject to search
Outside Food and Beverage
Space Coast Complex does not allow any outside food or Beverages inside the complex.  Individual players are permitted 1 personal water jug up to 74fl oz. in size and 1 small cooler with ice and towels only.
Lost and Found 
Lost and Found is located at the Pro Shop near the Space Coast Stadium.
Turf/Bullpen/Dugout Rules
No metal cleats. Only molded cleats and athletic shoes are accepted. No gum or sunflower seeds are allowed at Space Coast Complex.
No food, beverages, gum or seeds of any kind allowed
No glass bottles or containers, no outside alcohol of any kind allowed
No sharp objects, including tent stakes or chairs
No liquids other than water
No smoking of any kind
Lightning
All guests are required to leave the complex until the lightning delay has cleared. The gates will be locked until the delay has been cleared by Complex Staff.  Please follow the Rainout Line (information listed below) for updates on any weather delays.
Restrooms
Restrooms will be available at Space Coast Stadium Concourse as well as the Clubhouse located near the Red Quad.
Tents
Tents are restricted to low traffic areas around the outfield fence. No tents are permitted in high traffic areas including behind home plate. In the Event of inclement weather, tents must be taken down for safety.
AstroTurf Polices: Read Here
USSSA Live: Can't make it to the games? A full live stream of games on each field is available at USSSALive.com